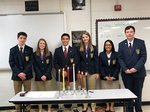 2018-2019 FBLA Officers
FBLA
Mission Statement
FBLA-PBL inspires and prepares students to become community-minded business leaders in a global society through relevant career preparation and leadership experiences.
FBLA-PBL's programs focus on:
Leadership Development—members develop essential soft skills by holding chapter officer positions at the local, state, and national levels; by networking with accomplished business professionals; and by participating in business-focused workshops, seminars, and academic competitions.
Academic Competitions—members demonstrate their business expertise at high-profile regional, state, and national competitive events. The top students are recognized with trophies and cash awards. Learn more about FBLA, PBL, and FBLA-Middle Level competitive events.
Educational Programs—members create career portfolios, enhance their knowledge with world-recognized skills certifications, and have access to select college scholarships. Learn more about educational programs for FBLA, PBL, and FBLA-Middle Level.
Membership Benefits—members receive exclusive discounts and enhanced benefits for travel, education, and more. Learn about the benefits available to FBLA, PBL, and FBLA-Middle Level members.
Community Service—members work with the March of Dimes to help end premature births by participating in awareness campaigns and the March for Babies fundraiser. Discover how FBLA, PBL, and FBLA-Middle Level members support the March of Dimes.
Awards & Recognition—members build a portfolio of accomplishments with a wide range of awards programs. Learn more about FBLA, PBL, and FBLA-Middle Level awards programs.
Dues: $11.00 and can be paid to any adviser.
Upcoming Events/Socials: Our FCHS chapter has a variety of upcoming events, conferences, competitions and socials for all members. Please check the calendar for dates on these fun and exciting events.
We are gearing up for our competition season:) Members should see an adviser if you are interersted in competing with us this year!