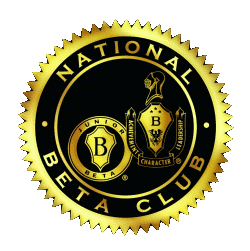 "Let Us Lead by Serving Others"
Franklin County High School Beta Club is a student organization that seeks to serve those in need by embodying character, service, leadership, and showing outstanding academic achievement.
How do I become a member of Franklin County High School's Beta Club?
Beta Club invitations go out in the Fall Semester of each year to eligible Freshmen, Sophomores, Juniors, and Seniors. To qualify for an invitation, a student must hold an academic and overall average of 90% or higher. Once a member of Beta, students must maintain a 90% overall average, complete a minimum of 20 community service hours each year, attend a minimum of five meetings, and uphold the by-laws of the FCHS Beta Club.
National Beta Club website: http://www.betaclub.org/