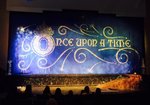 Into the Woods, 2016
Welcome to Spotlight Players
FCHS Drama

2016-2017 Season of Events and Plays
(For audition information, look under "News" and "Files")
(FOR MISS ECHO 2016 INFO, LOOK UNDER "News" and "Files")
August 26 Fun Raiser! FCHS Students who purchase a ticket to the home football game will be able to join us for tail-gate games on the practice field prior to the game!
September 24 Homecoming Dance (Tickets on sale the 19th-22nd at lunches)
October 1 Miss Echo at 7:00
October 2 Little Miss Echo 2:30
October 21 One Act Competition Piece (Curtain is 7:30)
October 29 Region 8AAA One Act Competition at FCHS
December 8 Dance Showcase 6:00
February 9-11 Georgia Thespian Conference
March 18 The 8th Annual Really BIG Show
April 27-April 30 Footloose
May 13 FCHS Drama Awards Ceremony
May 15 Acting Showcase
Tickets for main stage shows will go on sale approximately 4 weeks prior to opening. Information will be found on this website.

Thank you for your support! WE LOOK FORWARD TO SEEING YOU AT THE THEATRE!