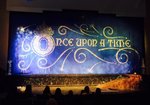 Into the Woods, 2016
Welcome to Spotlight Players
FCHS Drama

2017-2018 Season of Events and Plays
**LOOK UNDER "FILES" FOR SPECIFIC INFO ON AUDITIONS, NEW YORK, and MISS ECHO**
February 8-10: Georgia Thespian Conference
$125 Registration will be due October 16 and you will need to pick up an application on October 1. Hotel and bus fee will be due in January.
March 24: The 10th Annual Really BIG Show
Auditions are February 12 from 4:00-6:00 Please prepare about 30 seconds of what you plan to do at the show.
Tickets are $5 a piece
April 19- April 23: Steel Magnolias and Of Mice and Men
Auditions are February 5 from 3:45-5:30 or 6:00-8:00
You will not need to prepare anything for the auditions
May 12: FCHS Drama Awards Ceremony 3:00
Thespian Dance 7:30-9:30
May 14: Acting Showcase 6:00
Tickets for main stage shows will go on sale approximately 4 weeks prior to opening.
Information will be found on this website.

Thank you for your support! WE LOOK FORWARD TO SEEING YOU AT THE THEATRE!